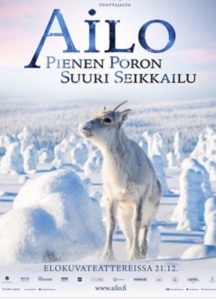 Fabio Volo, with his unmistakable vocal timbre, is the narrator in Italian of AILO – An Adventure among the Ice. It's the first feature film by a great author of animal documentaries, the French Guillaume Maidatchevsky. Wonderful images of uncontaminated nature and full of charm, are the background to the story of Ailo, an exciting and engaging film.
– I decided to tell the story of Ailo because it is a good film, because I am a parent and I want my children to see exciting and educational films like this. Ailo is not just the story of a splendid adventure, it is a film that makes us understand how nature and the planet should become central themes now, we are already late.
Elokuvaa Ailo- porosta voi vuokrata tai ostaa filmin itselle. Katso tarkemmat tiedot jutun lopusta.
From Kung Fu Panda 3 to a new role
Volo, writer, actor, screenwriter, radio and television host, a fervent supporter of the preservation of the planet, returns to dubbing after 3 years from the experience of Kung Fu Panda 3, with a completely new role: the narrator of a fantastic journey through the snows of Finnish Lapland, the magical land of Santa Claus, of a small reindeer puppy and its mother.
– I directed a lot of animal documentaries. But one day my children told me: "You never made a film about Santa's reindeer!"
Thus, was born AILO, a work of fiction based on the reality of nature.
Finnish Lapland to be seen everywhere through Ailo
Guillaume explains his choice of this narrative form after a long experience as a documentarian and biologist, an expert in the fundamental characteristics of animal behavior, absolute protagonists of Ailo. The film, the only one with Finnish production, was previewed last autumn during Rome Film Festival, in the Alice nella Città section, at the presence of the director and Volo.
The director, that we met during the preview, said:
– We shot 600 hours a day. I didn't read all of them, but almost! A third type of writing is started during assembly. That's where we look for animal expressions and mimics. We have before us a sort of big puzzle with all the interactions that occurred during the shooting. This is not a documentary or bestiary. I don't show ten scenes with one animal, and then another ten with another. No, the imperative is history, history, history… My goal is to create a bond with the viewer.
Environment first
Maidatchevsky has avoided falling into an environmentalist pedagogy that is by now rather invasive and often out of tune. In fact, it confirms that "the environmentalist discourse by dint of hearing it every day becomes sterile, loses strength. We need to find another way to raise awareness, rather than saying 'It is not nice what human beings do to the planet and animals.
From this point of view, I belong to the Miyazaki school: by marveling the viewer he is stimulated to protect the environment. The awareness will take place because the children will become attached to Ailo, to the ermine and to the glutton, and they will think: "it would be really a great pity if all this disappeared". After all, it also works like this with adults.
The education to life, to its joys and sorrows, to its conquests and dangers, is, the whole, a path common to all living beings, and Ailo's itinerary constitutes the metaphor of an adventure that involves and engages all the creatures of this planet.
Synopsis
Ailo – An adventure among the ice tells with the unique voice of Fabio Volo, the incredible journey of a small reindeer puppy among the wonders of Lapland. A journey to discover sensational landscapes immersed in an uncontaminated and primitive nature where beautiful animals live. A story told by unique images – collected in sixteen months during the four seasons – that show the growth of Ailo, the little reindeer who will learn to courageously face the dangers of nature and overcome extraordinary challenges to discover a beautiful world.
The reindeer
Ailo is a small reindeer, an animal originating from Lapland. There are tens of thousands of them in this region, more numerous than the inhabitants themselves. Reindeer have horns that are renewed every year. Their particular characteristics allow them to survive in a glacial environment, their fur, in fact, makes them capable of withstanding temperatures close to -40 degrees Celsius. Unlike other herbivores, reindeer can easily move on snow thanks to their large hooves. They feed on grass and moss, but their favorite food is without a doubt lichen.
You can rent or buy the film under this link:
https://viaplay.fi/store/ailo-pienen-poron-suuri-seikkailu-2018?gclid=CjwKCAjwkPX0BRBKEiwA7THxiE8f8367Q-NUn7MucoV7XA5eYqH_gpHDZK4X9S6rKCclK8rIR-bzyRoCDuwQAvD_BwE
Gianfranco Nitti