There was an old library free at Ounasrinne.
Kotokunta Oy decided to hire it from the Kiinteistö Oy Rovatalo, because empty library looked to be a pleasant Community Centre to people living nearby.
With the help and co-operation with Lions Club activists there started several activities, like Family Café and Youth Homework Club through MLL and singing together through Ronjat. Arffmann organised info's for getting job opportunities. Cooking was one activity people wanted to have and they got it, too. All these activities are supposed to get to know new people and neighbours.
Coming together
The idea of a Community Centre, named Kontu, is very open to all citizens interested in knowing new cultures,  learn and use Finnish language and get more near to other citizens.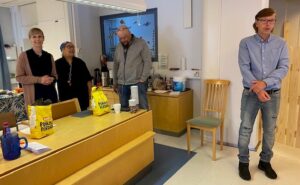 Learning new recipes, Finnish cooking culture and show others new cooking habits was the idea of Arctic immigrants-AMA`s cooking workshops that started late May in Kontu.
– We were ready to open this kind of activity, AMA has had a lot of ethnic cooking courses earlier. First workshop was Lappish food, where the main cook was Maarit Niskajärvi showing how to make tasty food from reindeer meat.
Picture: Piia Vaara, Maarit Niskajärvi and Kari Kähkönen were showing how to prepare lappish dish from reindeer. Picture: Riitta Kemppainen-Koivisto.
Introducing AMA as a local nongovernmental association (NGO) included also to program.
– New ideas came out and hope someday there are more ideas besides cooking we could do together and deepen internationality, multiculturality and tolerance. We could help people in near future who are interested in organizing an Ukrainian group with the help and advice of AMA members.
Show, do, get a new idea
In the mentioned cooking workshop participants were divided in two groups because of the large number of participants.
First group started to make one of the traditional dishes in Lapland, called perunamuusi and poronkäristys, mashed potatoes with sautéed reindeer. While getting to feel cooking that, the other group had a familiarization meeting with other AMA people.
-We explained how AMA started ten years ago, what kind of possibilities association can give and what kind of strategies new people can bring,  inspired AMAs coordinator Ahad Maroufi.
Picture:  Lisa Sychova is helping in translating the info Ahad Maroufi is giving. Picture: Riitta Kemppainen-Koivisto.
At the end of the workshop in a common big dining table, eating together helped to be more familiar and more together. The discussion started and a there is now a will to continue cooking together and mixing some other activities on the same Saturday afternoon.
Kontu Communal Centre is an easy place to get to know local people and newcomers through different activities.
Learn cooking Ukrainian traditional food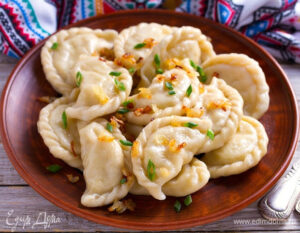 The second workshop will be hold on May 13th in same please, this time with cooking Ukrainian style food. There is a plan to add music to this Saturday afternoon, so at least karaoke is on!
Picture: Varanikis are dumplings filled with potatoes and boiled in water on a big pot. This type of food is to be cooked 13th May from 14 o´clock with help of Liubov Balyscheva and Marharita Diachuk at Kontu Ounasrinne. Picture: Insertpic.  
History and the goals of Kotokunta
Kotokunta Oy was founded alongside Kotouma in 2016.
The company provided services to support integration for underage asylum seekers who have received a residence permit. Kotouma merged with Kotokunta in 2021 and then continued its operations on behalf of Kotokunta.
Kotokunta maintains reception centres on behalf of the Finnish Immigration. Services are also in Rovaniemi and Reko Silvenius is the head of that unit.
-Kotokunta provides reception services in more than 20 locations in Finland. We operate on a so-called apartment-based model, our customers live in rental apartments in different parts of the city. Compared to institutional reception centre operations, this is seen as a more home-like option.
Reko continues:
-We in Kotokunta employ more than 200 reception and administrative professionals all over Finland. Our personnel are responsible for, among other things, guidance related to clients' housing, the production and coordination of social and health care services, the payment of the reception allowance, study activities and other general everyday guidance and counselling. In connection with our customers' basic education and early childhood education, we work in close cooperation with the municipality.
Communal centre Kontu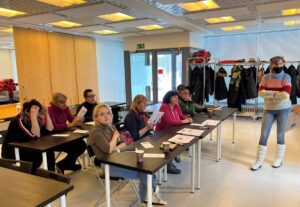 Now there are many courses every week  going on that Kotokunta Rovaniemi and their partners have planned.  The activities are hold on in Ounasrinne, Salmenperä 2.
Kotokunta provides Finnish society- and language courses.
Picture: Lyudmyla Rönkkö is helping in translating and getting new ideas to activities that are possible to plan together. Picture: Ahad Maroufi.
-We do plan different programs every week based on our possibilities and wishes the immigrants have to have cheerful time and spend time together after school and work.
More information in www.Kotokunta.fi
Ahad Maroufi